To better service Spanish Speaking clients, this page has a Spanish Translation. Click Here For Spanish!


Para brindar un mejor servicio a los clientes de habla hispana, esta página tiene una traducción al español. ¡Haga clic aquí para español!






**Attention Midvale Park!**

There are many buyers wanting to buy in Midvale, but there are currently an extremely low number of houses listed!
What does this mean? It means that home values Increase and people Offer more money for your home! If priced right, your home will sell very fast!

I have a great track record of selling homes fast! Just look at my listing below, I sold that house in less than 24 hours for well above asking price!


Not too long ago I sold a house in the Midvale neighborhood of Tres Rios by Mission Rd. I was able to sell my clients home in less than 72 hours, for above asking price! I provided some names of the best lenders in town and they were approved for an extremely low interest rate (lower than 3%). They purchased a home worth over $350,000 (an upgrade of more than $150,000) and want to hear the best part? THEIR MONTHLY PAYMENTS WERE LESS THAN WHAT THEY WERE PAYING FOR AT THEIR OLD HOUSE!!!

Success stories like these are not uncommon for my clients and I. It's time to Move Up!


Curious about what your house is actually worth?
Fill out the required information and I will provide you with a FREE Home Valuation! NO COMMITMENT!


Start exploring what your move up potential is! Search All of Tucson's Inventory for FREE!

Click here to go to the search feature or simply
Search Using the "Search Homes"
Menu Above!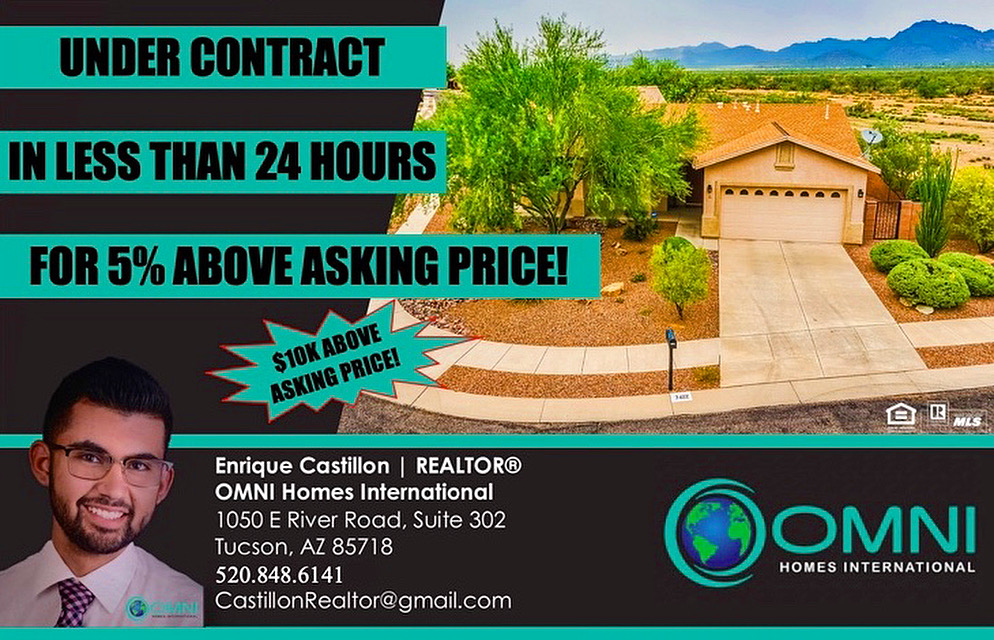 PLEASE FILL OUT THE REQUIRED INFORMATION FOR A FREE, NO OBLIGATION, HOME VALUATION!